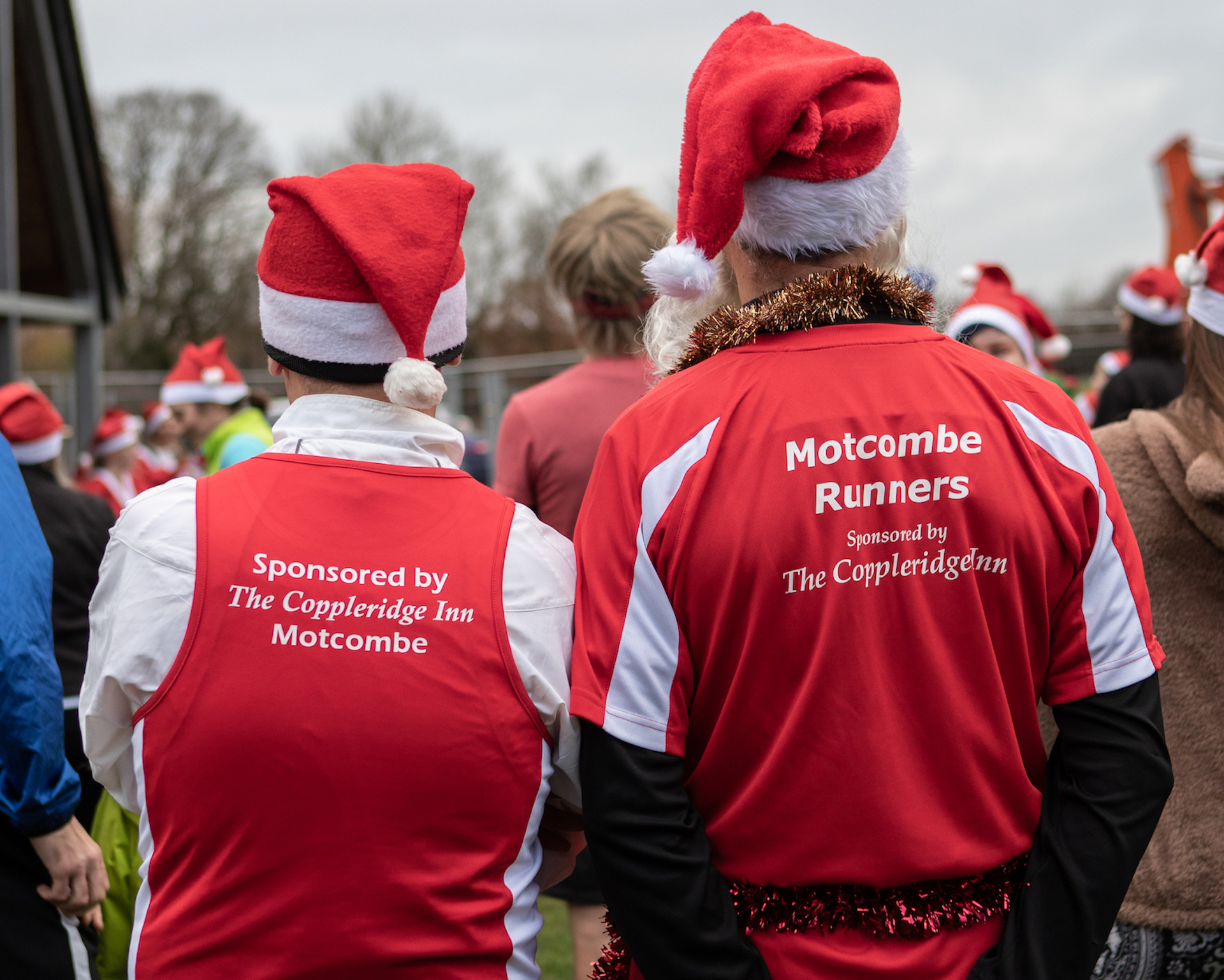 The Great Motcombe Santa Run should be fun and safe for all who participate. 
The road will be closed for the duration of the run, and marshals will be there to stop anyone getting lost, and to make sure that the route is clear.  They'll be wearing Hi-Vis jackets – please comply with their instructions; they're here for your safety.
First aiders will be present along the route and in the "rear vehicle" which will be driving slowly behind the last runners.
Please help to keep yourself and those around you safe by complying with the following precautions:
Sorry no bikes, scooters or dogs
Footwear – the route is on a road, but make sure you wear footwear and clothing appropriate to the conditions of the day.
Terrain – the road is pretty good, but please avoid the curbs and any potholes so that you don't trip over. Please also avoid the grand verges as they can quickly become muddy and there are stones on some of them.
Other runners – please keep a good distance between you and other runners and warn runners if you're going to overtake.

 

Runners will set off in waves of similar ability.
Speedy Santa – please be careful when trying to catch Speedy Santa – if you're speedy enough to catch him, let him know you're going to take one of his tags!
Warm Up – please join in the Jazzercise warm up to avoid any injuries.
Weather – it's December!

 

If there's ice, please be very careful.

 

If it's too icy we will have to cancel the run.

 

The village hall is open and hot drinks available to help warm you up.
Medical conditions – only you know whether you're well enough to run, please carry any medication you may need.

 

The first aiders will be wearing marked Hi-Vis jackets.
"Reindeer" Selfie – the "reindeer" will be supervised by an experienced handler.

 

Please take care around live animals and do what the handler tells you.

 

There will be hand sanitiser available. Please use this if you have touched the "reindeer".
Short cut – if you decide to take the short cut across the field please stick to footpaths and avoid livestock. It is likely to be very muddy in December so perhaps best avoided.
Children – must be with a responsible adult at all times.
Please do not attend the event if you have any symptoms suggestive of Covid 19.
Please give people space and avoid over crowding
Please wear a mask if you feel more comfortable doing so
We will be operating a one-way system for check-in and limiting numbers inside the village hall
Please use hand santitiser that will be available at check-in, Motcombe Memorial Hall and at the Reindeer Selfie Station
Obviously our Covid Safe Santa run advice may change in line with government guidelines so please check back here just before race day.